Team Day Out! Officially it was Knutsford Admin's Christmas Do a trip out on a cookery course – however you could call it 'Team Building', it was certainly interesting seeing our different personalities shining through as we set about the various cooking tasks.
First we gathered by our office door, wrapped up warm to head off to the train.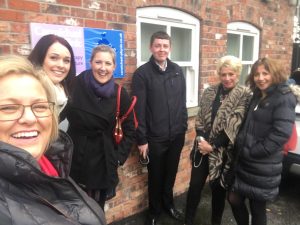 Then with a bit of magic we transformed from bookkeepers into proper chefs.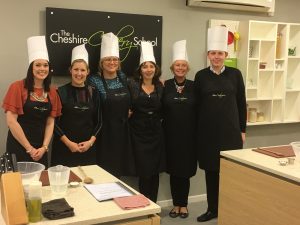 We'd found the Cheshire Cookery School via social media but had never visited previously.
A complete treat, a fantastic foodie facility with a well set out and equipped kitchen and very best of all the delightful assistants who cleared up behind us.
Our challenge was to make ravioli with a mushroom sauce and baked focaccia, this perhaps doesn't sound that difficult but it took us a while and was huge fun, testing our skills as we went.  Do you use a sharp knife to crack eggs?  Well we learnt how to sharpen knifes and then crack eggs.  Did you know the weather and humidity will affect how much water to put in your bread dough.  Would you know all about proper olive oil?  Great to learn new knowledge.
It's fair to say that our most mathematical team members Jon and Alison took a far more precise approach to their ravioli and produced uniform squares, all very neatly executed.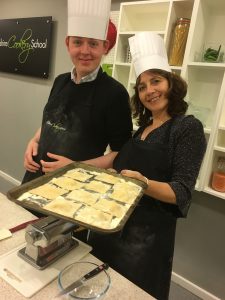 My approach is much more about getting tasks done quickly – my plate of food was cooked and ready for eating way before anyone else, my ravioli tasted absolutely fine of course, but lacked the finesse of Jon and Alison's, I like to think mine had a more 'rustic' look.
Interestingly though this is reflected in how we work with Knutsford Admin – I am much more prone to pushing work along quickly, whereas some of the others like to take more time – as clients are charged by the hour so long as the work is correct most of them prefer a speedier approach, and that's what makes a good team, achieving a good end result but in the time frame the client desires.
All in all we had a marvellous day enjoying a complete break from computer screens and enjoying each others company – there is no doubt about it, the odd social activity does a great deal to keeping a team motivated and I for one, thoroughly enjoyed the Cheshire Cookery School experience with the Knutsford Admin team.
Now let's start planning 2018!
Happy Christmas from
Helen and team KA