Knutsford Admin Ltd runs the long established Network Knutsford, business social group.
Third Thursday of every month.
Thursday 21st February 2019
Our evenings are mostly general business chat amongst attendees – we do however like to have a guest who speaks for around 20 minutes. February Guest: 'Member profile – Adrian Lord, Pianist' come along to Network Knutsford, a pay as you go business group and hear Adrian talk about triumphs like being on Spotify and hear him play some of his own work.
Network Knutsford evenings are relaxed, we sit together around the table and enjoy a light meal and plenty of business conversation (depending on the numbers you will be moved around the table to ensure everyone gets to 'meet' everyone).  No membership is required, you buy a 'ticket' for the night that helps run the group and then you support the restaurant or bar we meet at by purchasing drinks and/or drinks on the night.   Each month brings regulars and new faces and the best thing that everyone says is how friendly the group is and how much peer support everyone feels.
Our guest this month is Adrian Lord.  Adrian has been attending Network Knutsford regularly for two years.  He enjoys chatting with fellow attendees and particularly picking their brains on social media – he is also now in collaboration with another attendee working on an exciting joint business project.
Adrian will talk to us about how he has balanced two businesses whilst pursuing a career in music (yes, you may know his name in the world of driving instructors).  As in all businesses things move on and we all have to embrace change – he will tell us about how music is changing – he has produced CD's but is now using Spotify to market his material.
18:00 at The Angel, 96 King Street, Knutsford, WA16 6HQ
Click on Book Now below to go to Eventbrite site & tickets:
General information about Network Knutsford: 
* Every visitor is greeted at the door – no standing alone
* Brings together local businesses, know what services are on offer in our local area
* Peer support in a relaxed and informal environment
* Share the highs and lows of running your own business, bounce ideas off each other
* Many long term business friendships have been established through Network Knutsford
* People dip in and out there is no obligation to attend regularly
* Frequent attendees build trust and refer work to each other
It really is a welcoming group – why not come along and see what it's about.
This original Knutsford focused networking group was set up by Marco Dellapina and has been running for around 10 years.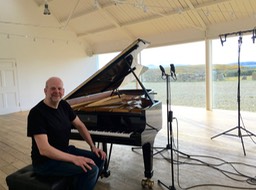 Adrian at the recording studio – Crear, Scotland