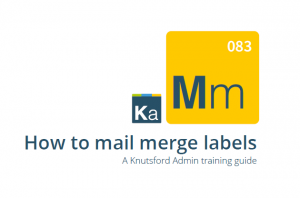 Do you have a whole list of people or businesses you need to send post to, would you like to quickly produce typed labels to stick on the envelopes?  Christmas is a popular time to do this when it comes to sending out cards.
We can help you do this.
Click to open our HOW TO MAIL MERGE guide.
First you will need to have created a spreadsheet in Excel.  Put your contact details into rows, follow these column headings:
Title, First Name, Last Name, House/Building Name, Address Line 1, Address Line 2, Address Line 3, County, Post Code
Save this document with a name and in a file on your computer where you can find it when you browse to link to it from Word when you're creating the labels later.
Please get in touch if you have any questions, we're happy to give very brief help over the telephone.
Alternatively, if you would like to use one of our services, we can produce the labels for you or you could book one of our two hour training sessions at our office when we can show you how to use Microsoft Excel and / or Word.
01565 625615